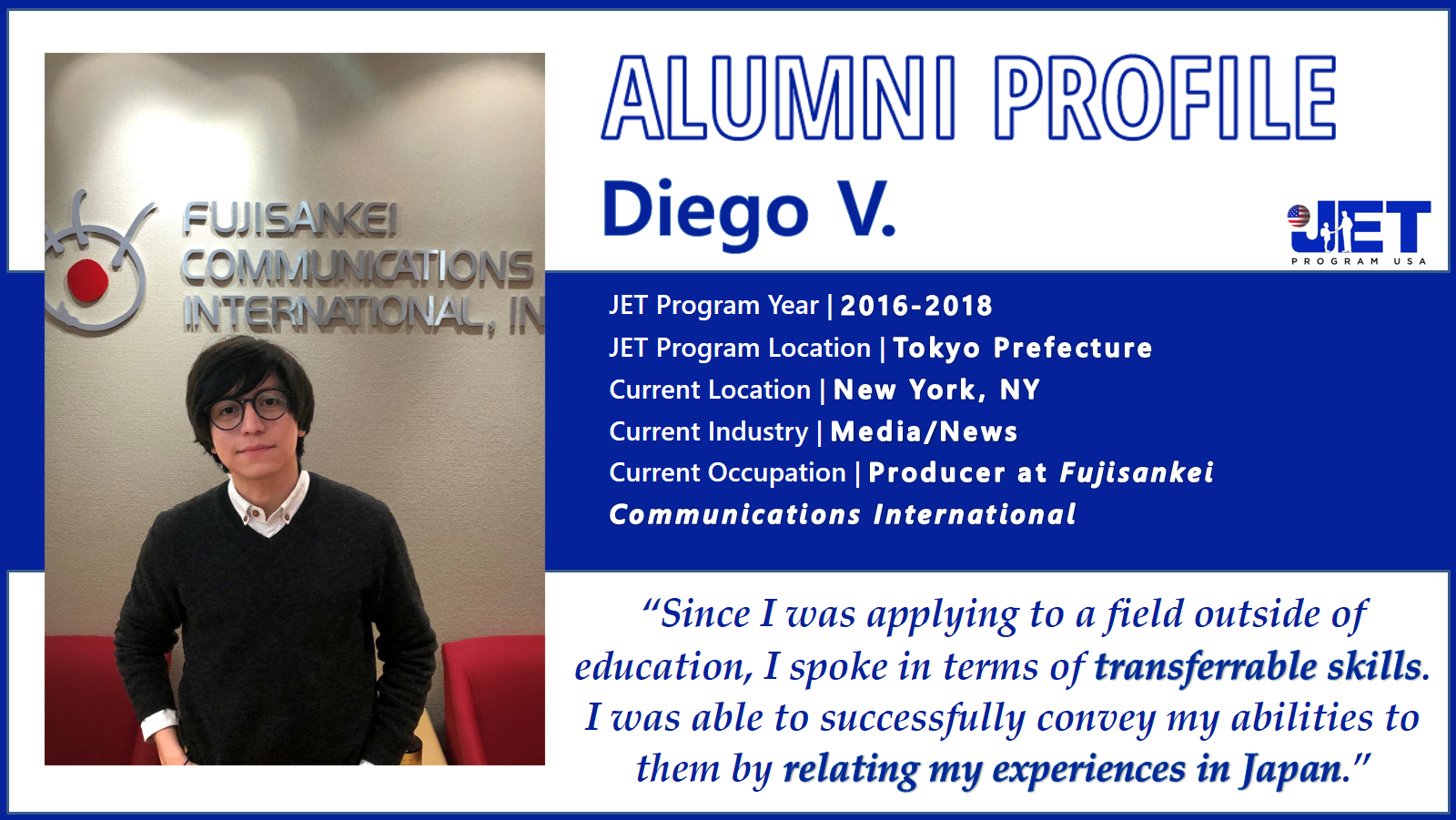 An interview with Diego, a JET Program ALT alumni, who was placed in Tokyo prefecture from 2016 to 2018.  He now works for Fujisankei Communications International, a part of Fuji TV, as a producer. The Fujisankei Communications Group is the fourth largest media company in the world, and the largest in Japan.
Tell us a little bit about your current organization and your role there.

I am a producer for Fujisankei Communications International (or FCI), a part of Fuji TV. At FCI, our focus is news-related programming and I am responsible for news segments that make the morning, afternoon, or evening TV. The process for the creation of these segments begins with information gathering. Every day, it is my job to either seek out new information or to sift through the existing chaos and find valuable intel and relay it to the news team. Once a story has the support of the department, it becomes my job to get the ball rolling. I can organize travel (local, domestic, international), reach out to local contacts, schedule interviews, hire services, etc. Meanwhile, the camera team and reporters begin their own preparations. After the preparations are complete, we go on-site to begin filming. On-site filming, in particular, is very interesting since nothing is ever certain and things that can go wrong do go wrong. However, if you are careful, it is possible to anticipate problems and avoid them. Because of this, a producer, certainly, never stops learning. Once a segment is filmed, it is shipped to the editors in Tokyo and soon after aired on TV!
How did you end up at your current position?
I was looking for a job that would enable me to utilize my skills in writing, politics, and media, when it occurred to me to post my resume on Indeed.com. To be honest, I did this with no serious expectation that it would lead to anything. However, to my surprise, I received two different messages from two different recruiters within 24 hours. With nothing to lose (but cautious of an internet scam), I took the chance on one recruiter and gave them a ring. It was during that phone conversation that I learned about the position and began the application process. After a somewhat lengthy interview process (and one exam), I made it in the door, I became an employee of Fuji TV!
How did your JET Program experience prepare you for your current position? 
JET was vital, in my opinion. Throughout the interviews, my JET experience came up quite a lot. My new employers seemed interested in what I had learned and how I handled myself in difficult situations. I was able to successfully convey my abilities to them by relating my various experiences in Japan. Since I was applying to a field outside of education, I often spoke in terms of transferable skills. That, and I stressed my interest in pursuing further education in Japanese. Of course, my professional and academic background outside of JET contributed as well.
What advice would you give to current and future JET Program Participants? 
The JET Program will supply with you ample experiences and skills that will ready you for your next role. After that, it is simply a matter of pursuing something that you enjoy. My own observations have taught me that the most successful and cheery people are those that are in the active pursuit of something they enjoy. So, if you know what that might be, I recommend that you explore those options.