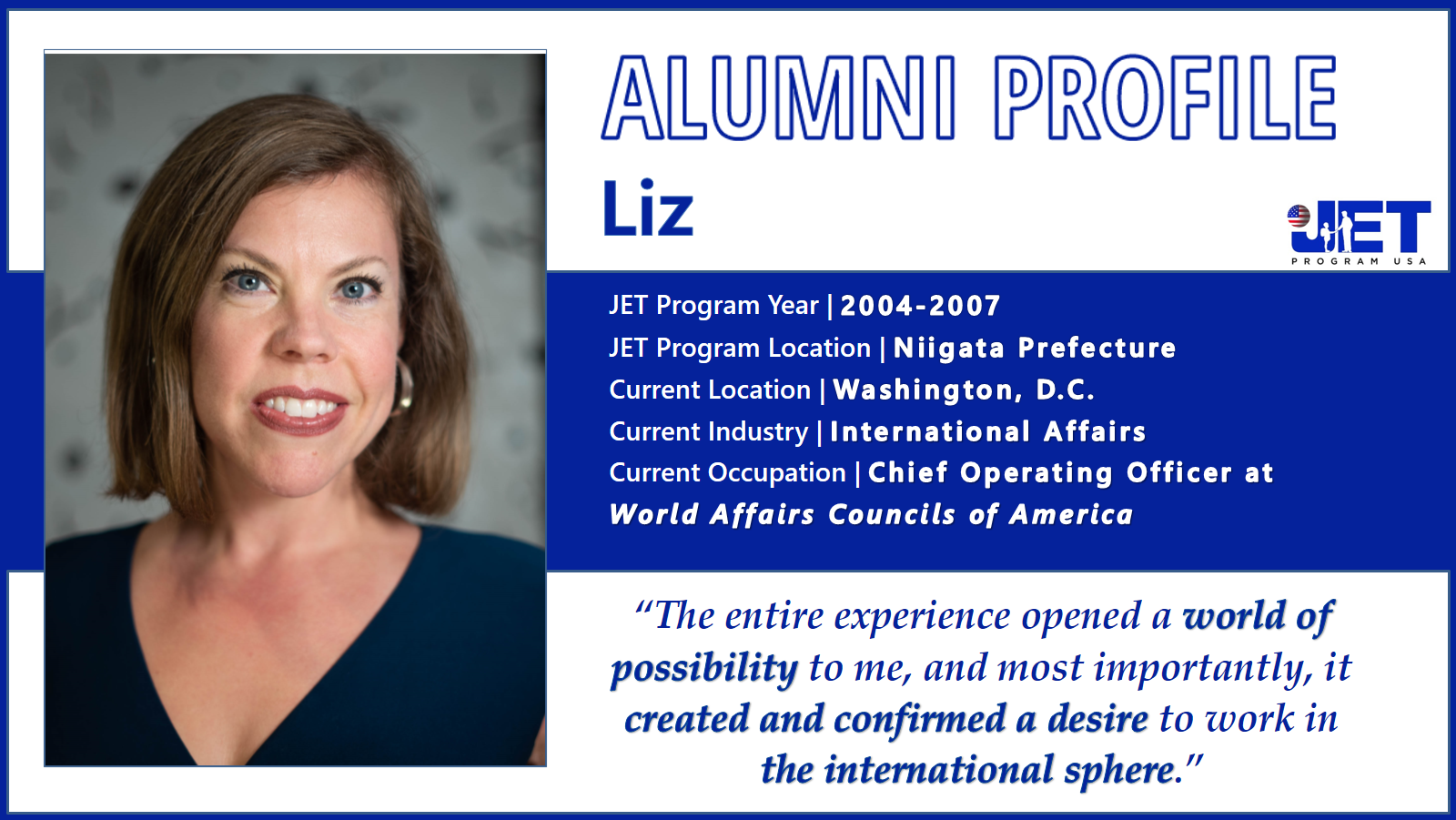 An interview with Liz, a 2004-2007 Niigata prefecture JET Program alum, who now works as the Chief Operating Officer at the World Affairs Councils of America (WACA). WACA is the largest grassroots, independent, nonpartisan organization dedicated to engaging the American public and leading global voices on international affairs and foreign policy. Along with Liz, the Chief Executive Officer of WACA is also a JET Program alumni!
How did you come to work for the World Affairs Councils of America?

Thank you for this opportunity to share a little about myself in the hopes it can help others in their own careers.
My career has been winding! It has spanned all sectors (private, public, and nonprofit), and the one constant is the thread of internationalism. I've worn many hats through my journey, and I like to think my wide and varied career trajectory strengthens my skill set even further and imbues me with a unique perspective and well-rounded viewpoint. My path and education have reinforced my notions that conversation is a path to progress, that cross-cultural exchange is the key to our deeply-connected globe, and that smart, bipartisan policy making is the mechanism that makes our planet a better place for all inhabitants.
I currently work as Chief Operating Officer of the World Affairs Councils of America (WACA). My job focus is all things internal to the organization, with a smattering of external duties as well. I oversee finance, IT, HR and staff management, operations, communications, event management, and grants and program management. In regards to external activities, I participate in grant writing and partner/donor/stakeholder development when needed as well. I take thorough delight in both internal and external functions and enjoy being the face of WACA when called for.
This job ties up in a neat little bow all of my past employment, volunteer positions, and schooling. Whereas responsibilities previously were scattershot, I've consolidated into one position now, making it easier and more enjoyable. Traversing through my varied background – with the constant of international – gave me a leg up in the competition in gaining this role.
It is because of JET that I heard about this position (thanks, JET)! Soon after moving to DC in 2016, I began working on the planning committee for the JET30 Reunion. This event was the 30th anniversary reunion/conference for all U.S. JET alumni over the first weekend of August 2017. I met WACA president and CEO Bill Clifford at the reunion (who is also a JET alum!). Soon after learning about WACA, I signed up for their emails and heard about the open COO position in January of 2018 through those. (As a side note, I had worked with Global Minnesota in years past through my Japan-related work in Minneapolis and had no idea at that time they were (and are) a Member Council of WACA. It is a small, interesting world indeed.)
What's next for me? Who knows. I remain open to the excitement and opportunity of life and cannot wait to see what's around the corner.
How did your JET Program experience prepare you for your current position?
I believe JET made me a more adaptable, flexible, and confident woman. The entire experience opened a world of possibility to me, and most importantly, it created and confirmed a desire to work in the international sphere for my career. That decision is one I've neither regretted nor looked back upon since.
What is your most memorable JET Program experience?

How can I narrow it down! As I've been home now going on 13 years, the finer points of detail have dulled, but the essence will always remain. My first onsen experience. Sharing "Mexican night" dinner with the Master of our local Karaoke bar. Going on a blind date with a Japanese man. My students (oh-so-kawaii neee!). Being in Thailand during the great Indian Ocean earthquake and tsunami of 2004. Breaking through all communication barriers with heart-to-heart, real life moments. The first time I dreamed in Japanese.
I relish my JET experience so much and feel indelibly grateful that I was able to participate in such an extraordinary program. To say my time in Japan was terrific is an understatement, and as a mutually-beneficial, grassroots initiative, I hope the JET Program continues into perpetuity.
What advice would you give to current and future JET Program Participants? 
Never give up. Believe in yourself – you are capable of MORE than you probably believe and/or know. Network like crazy and never let an opportunity pass you by. Remember that the random person you run into at a party or in the elevator could be your future job connection, your future business partner, or your future employee – you never know what tomorrow holds.