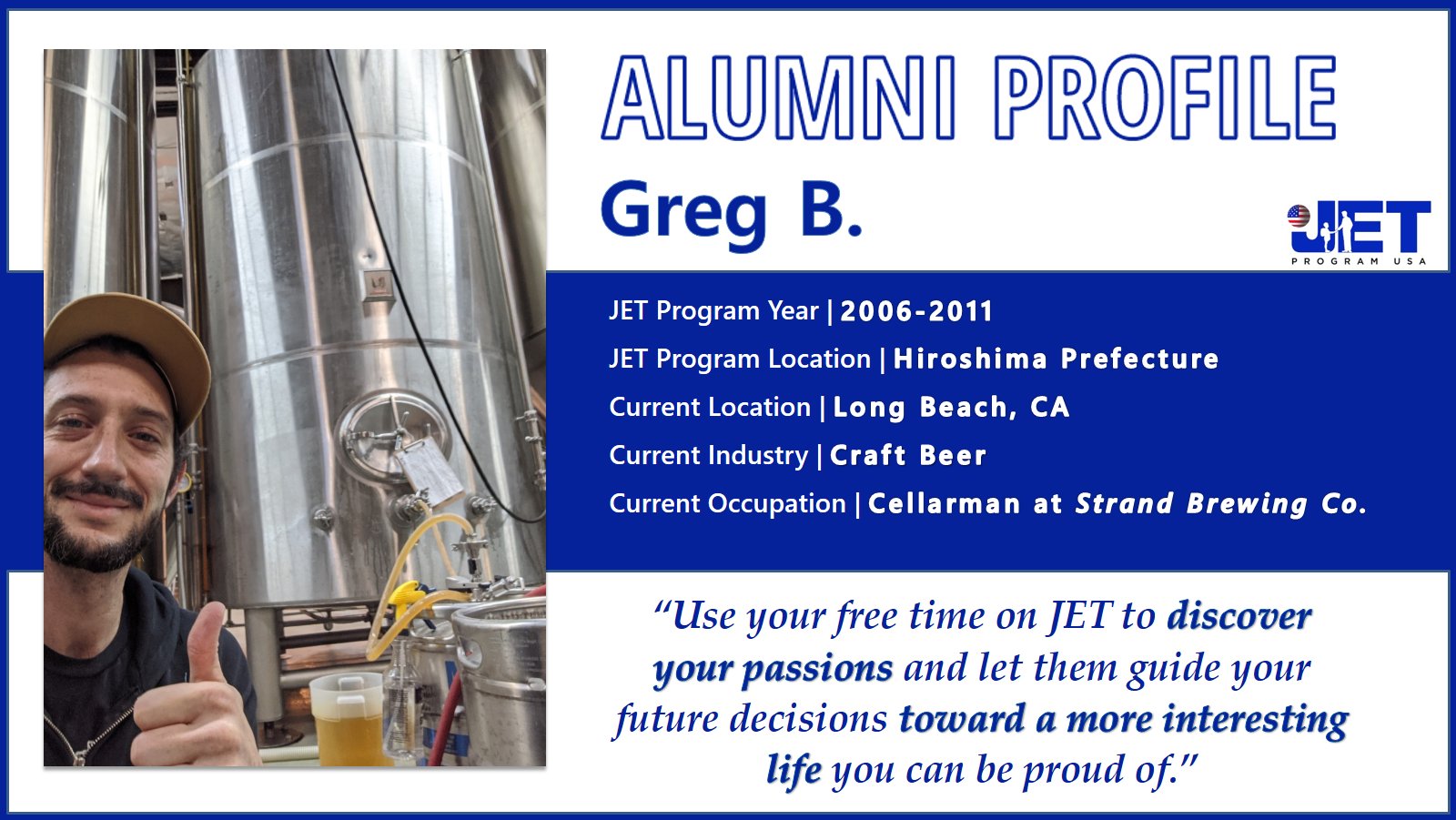 An interview with Greg, a 2006-2011 Hiroshima Prefecture ALT, who now works as a cellarman at Strand Brewing Company, a craft beer brewery in the Los Angeles, California area.
Tell us a little bit about your current work.
I am a cellarman for craft brewing company called Strand. I work with the brewers, organizing and cleaning the brewery, canning, kegging, and packaging the beer to be sold.
How did you end up at your current position?
As I wrapped up my fifth year in JET as a Prefectural Adviser (PA) and CIR in Hiroshima prefecture, I found work as a journalist in New York City. I worked as a television news producer, interviewing, editing, and otherwise covering a wide variety of beats, including breaking news, the Boston Marathon Bombing, Occupy Wall Street, and the United Nations for four years, before returning to the food and beverage world. While doing that, I picked up home brewing craft beer and hard cider out of my kitchen. I just finished two years serving as President of the JET Alumni Association of Southern California and Arizona (JETAASC). I also worked at a few American and Japanese Import/Export companies and became a sake sommelier while moonlighting as a bartender at Japanese izakaya in both New York and L.A.
How did JET prepare you for your current position?
Teamwork and adaptability are definitely the two most crucial skills I honed while working on JET. From there, working hard, having a curiosity about everything, especially food and beverage, have carried me along this winding career path.
What advice would you give to JET participants or future JET applicants when it comes to establishing a career after JET?
Use your free time on JET to discover your passions and let them guide your future decisions toward a more interesting life you can be proud of. Make friends and keep in touch with them! You will never know when those connections will lead to opportunities both for yourself and for them.
What was your most memorable JET Program experience?
So many things could fall into any one year of the "JET Program experience". Professionally, I would have to say it was working at the Hiroshima Peace Summit, where 7 Nobel Peace Prize Laureates were in attendance – including Shirin Ebadi, The Dalai Lama, and Jody Williams. In my free-time, making friends and going snowboarding, barbecuing, road trips, and weddings probably tops the list. My other experiences included hitchhiking from Hiroshima to Tokyo, climbing Mt. Fuji, attending the Sake Matsuri, the AJET trips to Sumo in Fukuoka every year, and running in the Okayama Naked Man Festival… I could go on for pages!