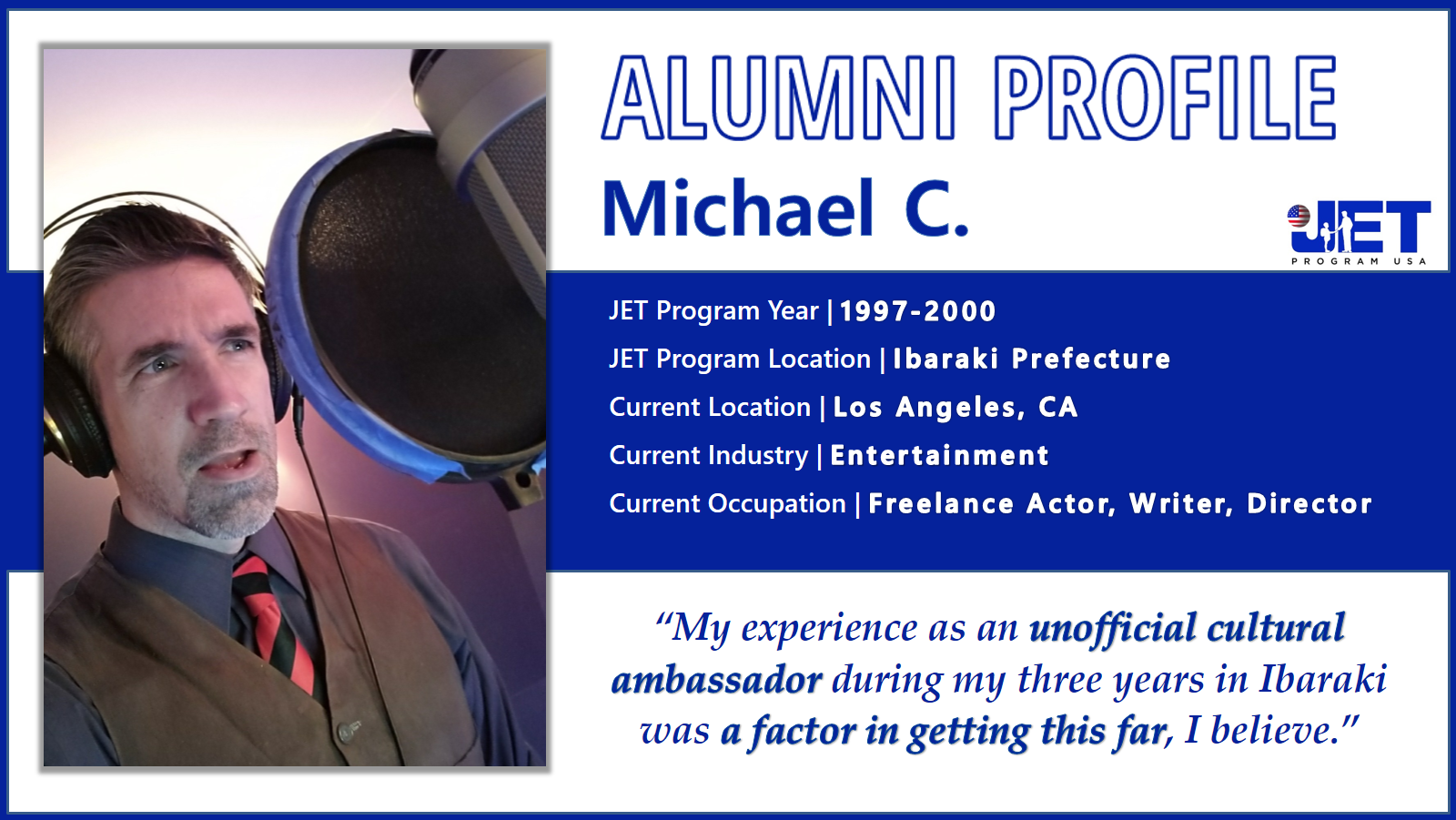 An interview with Michael C., a 1997-2000 Ibaraki prefecture JET Program ALT. He now works as a Freelance Actor, Writer, and Director and has voiced acted for anime, video games, and more. One of his most prominent features is the current voice of Street Fighter IV and Street Fighter V's Cody Travers.
Tell us a little bit about your current work.
Over the years, I have worked in various mediums, but most notably in commercials and as a voice actor in video games such as Street Fighter and Mega Man.  I've also produced podcasts and live shows including our long-running pulp adventure radio serial, Tales of the Extraordinary (coming up on 12 years next month), and an interactive theater shows, Dungeon Master and Adventure.
How did you get to where you are now?
After a pit stop back home after JET, I came to Los Angeles and got to work.  I had a survival job as a substitute teacher in Culver City, most often in Japanese Immersion elementary school classes, and then as a host for Universal Studios' "Special Effects Stages,"show in the park.  Through auditions, connections, and my agent, I carved out a career in commercials while producing my own theater shows.  In 2007, I started Tales of the Extraordinary with a voice actor friend of mine who soon became the voice-over director for the revived Street Fighter game series.  He brought in myself and most of my cast to audition, and now we voice most of the characters in the games.  From there, I have gone on to voice other games, travel to conventions to meet with fans, and even got to direct the English dubbing on a Japanese Netflix series.
How did JET prepare you for your current role?
The most important benefit I took from my JET experience was self-confidence.  Being dropped into a foreign land, in the middle of the inaka (rural country-side) in my case, without anyone you know around you and attempting to start a new life from scratch, can really allow a person to get to know themselves.  Also, having climbed Mt. Fuji 5 times helps put things in perspective:  no matter how bad something seems, it can't be worse than Fuji.
Concretely, though, my experience in Japan – and on JET in particular – has directly helped me in my career.  I once booked a job with the New Horizon textbook company (though I used their rival, Sunshine, during my time on JET), filming dramatizations of the English dialogue sections to be included with their books back in Japan.  The audition script used actual pages from one of their textbooks and I let the director know how surreal it was to be there at that moment.  Even more directly, I was cast in a feature film written and directed by another JET alumni that was released in Japan.
The path to being a voice actor benefited from my experience in Japan, too.  My friend who became the Street Fighter voice-over director used to live in Japan when he was younger and we bonded over that when we first met.  Plus, the actual work of dubbing over Japanese dialogue in these games is much improved by my knowledge of the language.  We have to fit the English dialogue to match the length of the Japanese dialogue while retaining the meaning.  Sometimes I am able to offer suggestions to improve the dialogue or come up with my own lines.
When I worked on the Netflix series, Erased, I was able to transcribe the rough translations into natural sounding dialogue that also fit the Japanese actor's mouth movement.  My JET classroom experience was especially useful since the majority of the show takes place in a Japanese public school.
Outside of the entertainment industry, I have used my time on JET for other endeavors.  Other than the substitute position with the immersion program, I also tutor the staff at our Japanese consulate downtown.  Looking toward the future, I have applied to be a Foreign Service Officer and passed the first two rounds of the selection process.  My experience as an unofficial cultural ambassador during my three years in Ibaraki, as well as working as the social coordinator for our local AJET chapter, was a factor in getting this far, I believe.
What advice would you give to JET Participants or future JET Applicants when it comes to establishing a career after JET?
The best advice would be to find your local JET alumni association and join up.  Here in LA, the JETAASC has networking events every month or so to connect JETs with businesses in the area.  Even without that, just having a support system of fellow returnees and people who know what you're going through will help you make connections.  JETs are a tight group and have interests in various careers, so it's extremely beneficial to be a part of the alumni gatherings.
I was lucky enough to be chosen from my prefecture to attend the Returnees Conference in Tokyo just before leaving JET, and the most useful thing they taught us there was how to sell your JET experience.  Not just the teaching aspect, but the resiliency, adaptability, and open-mindedness that comes with daily interaction in a foreign culture.
What was your most memorable experience while on JET?
Mt. Fuji.  My first month on JET, I climbed it with four people I just barely knew.  It was a miserable, torturous experience and I nearly died of exposure.  But it was worth it for the view of the sunrise from the top, spread out along the top of the cloud layer.  It also forged a bond with my group, many of whom I am still friends with.  Most importantly, it helped put the many adversities I came upon since then into perspective, because no matter how bad something might seem, it will never be worse than Fuji.  Two years later, I was the social coordinator for the JETs in our prefecture, and I arranged the transportation and logistics for the annual Fuji climb myself.  I got everyone there and back in one piece, coming full circle.  I still compare everything to Fuji.  And Fuji still wins.