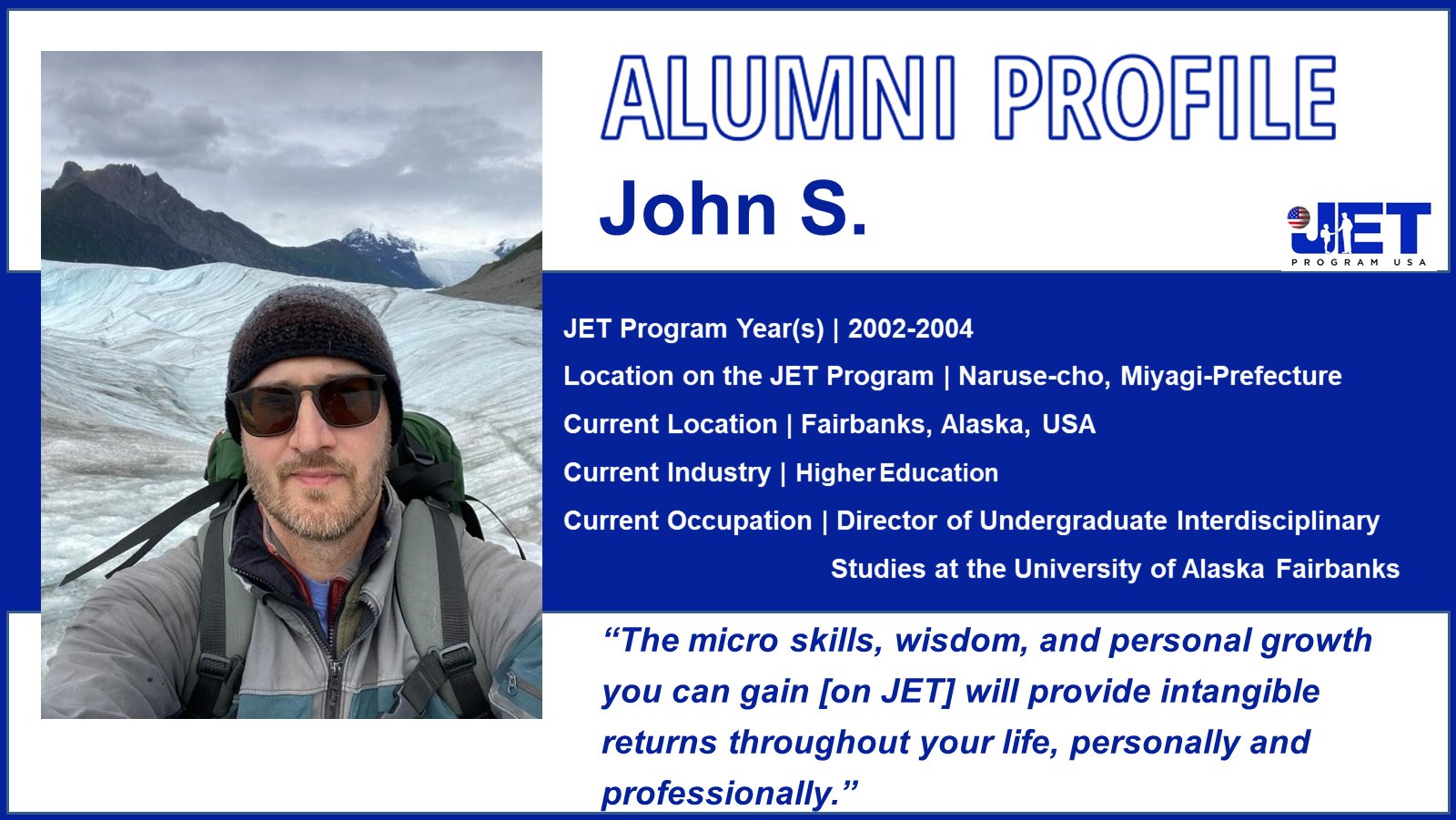 An interview with John S, a 2002-2004 Miyagi Prefecture JET ALT. John is the Director of Undergraduate Interdisciplinary Studies at the University of Alaska Fairbanks.
Tell us a little bit about your current organization and your current position.
The University of Alaska is America's Arctic University located near the Arctic Circle with unique programs and degrees particularly focused on the biology, climate, natural resources and peoples of northern latitudes. I oversee the Interdisciplinary major, which allows students to build custom programs of study. I also oversee the degree completion program.
How did you end up at your current position?
Before JET, I grew up in Pennsylvania and worked for an art museum during college. After graduating I worked in New York City and Long Island for an environmental engineering firm. While in JET, my interest in museums and art continued. I started taking ceramics classes with a Japanese potter, and when I returned to the U.S., I moved to Alaska to earn my MFA in ceramics from the university where I now work. I have worked part time as a university art instructor, but I have always had a passion for helping people and connecting the dots between disciplines, so overseeing an interdisciplinary degree program has been a natural fit for me. I love my job- I mentor students and guide them on a path to earning their degrees in unique and individualized ways, and I help them plan for graduate school and careers after college (including several JET applicants). I work at a research university but have a background in arts and humanities, and I'm interested in STEM fields incorporating humanities and arts into their programs (and vice versa) as a legitimate way of strengthening understanding and promoting creative innovation.
What skills or experiences did you gain from the JET Program that helped you get to where you are now?
JET introduced me to teaching. I went on to be an instructor of college art courses. Japan influenced me as an artist and as a person. Learning the Japanese language opened my mind up to thinking in new ways. Before my current position, I was the lead on international student recruitment. My multicultural and international experiences in JET and studying abroad helped me get that job, without question.  My familiarity with Japanese language and culture also helped me visit and strengthen ties with some of Alaska's sister cities in Japan. For example, I visited Obihiro, Hokkaido (the sister city of Seward, Alaska). Obihiro began sending high school students to visit the University of Alaska Fairbanks (UAF) every summer as a way to encourage students from that community to study abroad.
What advice would you give to JET participants or future JET applicants when it comes to establishing a career after JET?
Take advantage of the network of alumni through JETAA. When I finished the program in 2004 social media was just starting, so it wasn't as easy to connect to other alumni. Now it is very easy, and networking is really a great way to get leads on jobs, career advice and moral support. When you apply to jobs, don't be shy about leaning into the peripheral skills you gained from your JET experience, such as adaptability and patience. Also, take advantage of your time in JET to be an active learner. Study Japanese, cultivate your interests, write, and engage with your community. The micro skills, wisdom, and personal growth you can gain will provide intangible returns throughout your life, personally and professionally.
What was your most memorable JET experience?
There were too many great memories to just pick one. But here is one that I do still think about. I was lucky to get involved with a group of hiking enthusiasts, who were a mix of ages and nationalities (though mostly Japanese men and women). We hiked many mountains in Tohoku and enjoyed many great onsens [hot springs] after our hikes. One of my most special memories was when I went with just two members of the group, two older Japanese men. We went into the mountains late in the fall season, and halfway into the hike it started snowing hard. We took shelter in a mountain ski hut, where we made a fire in the woodstove and enjoyed some sake and a picnic lunch cooked on the stovetop. The mountain was so quiet. We had some laughs, but mostly we just enjoyed the quiet company of friends, a shared meal, and nature's splendor. Years, later, I heard that one of those two friends with me on that hike lost his life in the 2011 Tohoku earthquake and tsunami. Now, I am about the age he was on that day we went hiking. That memory is particularly meaningful to me, because it reminds me of the beauty of Japan, the simple joys that make us human (regardless of nationality), and for me it is nice way remember a man, a father, and a kind spirit who was one of many in that community to have lost their lives and way of life in the spring of 2011.